Nursery Weekly Blog - 4/10/2019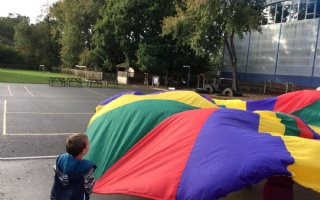 We have had a great week in Nursery and the children have really enjoyed exploring the outdoor space around the school. We had fun with the parachute on the playground playing lots of games.
We have been to the woodland area several times this week and we enjoyed collecting things for our autumn table. Please remember to bring wellies in for your children to wear.
On Friday we had our own harvest festival and used Oliver's Vegetables as our focus for the day. The children loved printing with the different vegetables and mixing autumn colours.