Willow Trip to Lulworth Cove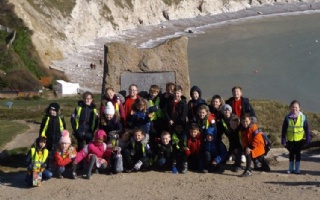 On Tuesday 24th February, Willow base visited Lulworth Cove to launch our new topic about the Jurassic Coast. We had a brilliant, and thankfully sunny, day and we learnt lots of new facts.
"My favourite part of the trip was when we went down onto Lulworth Cove beach and we created some fossil art with the natural things on the beach. I made an ammonite using stones, seaweed and even some fossils!" – Erin
"I liked going to Lulworth Cove beach and sketching the cove, including all of the 5 different types of rock that we had learnt about."- Bradley
"Although it was a little bit stormy I really liked looking at Stair Hole from the top of the cliff because I could feel the ocean breeze on my face." – Theodore
Thank you to all the parent volunteers who helped us on the day.