AFCB Community came into school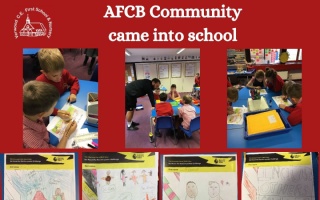 Wednesday 5th October Ash and Willow base welcomed two very important visitors into the school. Matt and Nick from AFCB Community came into school to talk to the children about RESPECT. The children learnt what respect and disrespect meant and how this was linked in both school settings and within sports. The children completed activities around respect and came away from the workshop with a great understanding.
Hetty H – I enjoyed learning about respect. I like people being happy and playing with each other.
Ivy H – We listened and did not talk. Showing Matt and Nick respect.
Last week (Wednesday 12 th October) Ash and Willow welcomed Matt and Nick back to talk all about 'NO ROOM FOR RACISM'. The children took part in a discussion about racism and inclusion. Their attitude and determination to learn grew and the children are ensuring they include their friends inside the classroom, on the playground and outside of school. In today's workshop the children were asked to create a poster all about 'No Room for Racism'
Charlie W – I like that they are taking real life things that are happening and helping to change minds. I thought it was really important learning about this and I will make sure everyone is included.
Hope W – I enjoyed learning about inclusion today. I like the idea of everyone playing and joining in and no one being left out.
Evie H – I enjoyed creating a poster today all about Racism. They even took a copy of our poster!